I'm sure everyone my age remembers when Pokemon first became a big deal. My brother and I collected the cards. He attempted to teach me how to play, but I mainly wanted to look at the adorable critters on the cards. We played the Nintendo games and watched the animated series on television. Eventually, we both grew out of it, and our cards started collecting dust in our childhood rooms.
Imagine my surprise when I first saw the trailer for Detective Pikachu AND it had Ryan Renolds! Both my husband and I were so excited. Having finally had a little bit of down time in our hectic schedules, we decided to have a date night on Friday.
Naturally, we decided to see Detective Pikachu. I was surprised at how many families were at the movie. After hearing one of my cousins talking about how they made this to "adult" for him to share with his daughter, I expected it to be mostly folks of my generation.
Literally, as soon as the movie started, you heard me "aww!" The visual effect guys did an amazing job with all the pokemon. They looked as cute as I remember!
The premise of the movie was Tim (Justice Smith), who wanted to be a pokemon trainer, gets word that his father has died while working a case. While handling his father's affairs, he comes across his dad's pokemon partner: the one and only Ryan Renolds Pikachu. The movie revolves around the two figuring out what exactly happened to Tim's father and what was the case he was working. Pikachu sums it up best: "That's a twist. That's very twisty."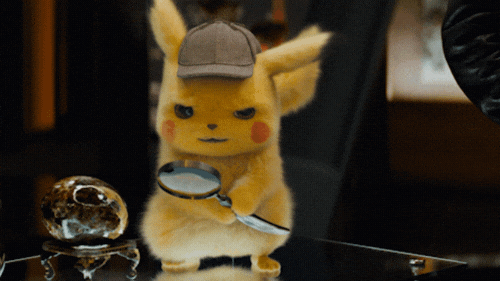 My husband and I were laughing so hard during the movie, even at points that were supposed to be sad (who wouldn't laugh at a sad Ryan Renolds singing the Pokemon theme song?). Both of us recommend seeing this movie 100%.
Rating: 9.5 / 10.0